Regular price
$29.95 USD
Sale price
$39.95 USD
Unit price
per
Sale
Sold out
 INCLUDES:
- Two Magnetic Thumb-Stick Grips (4.5mm each)
- Two Magnetic Sniper Tower Extensions (4.5mm each) 
- Two Magnetic Mini Sniper Extensions (4.5mm each)
Each piece adds 4.5mm of height to the thumb-stick, allowing you to customize the height you feel most comfortable with. Apply both the Thumb- Stick Cover + Sniper Tower Extension for a total of 13.5mm of added height for leveraging those difficult shots with ease!

These Sniper towers will revolutionize the Thumb-Stick and Extensions market. Gamers can go from Low to Mid to High Sniper Towers any time during gameplay. That's 4.5mm to 9mm to 13.5mm of height at any time in your game. You can smoothly transition heights for different weapons options and in play customization. Nobody has this! This feature alone will dramatically increase your performance.

The Sniper Towers are also a break-away design to help the gamers play more in control and ergonomically correct. This will increase your performance by playing less toxic. The more control you have over your controller the better you play.
Share
View full details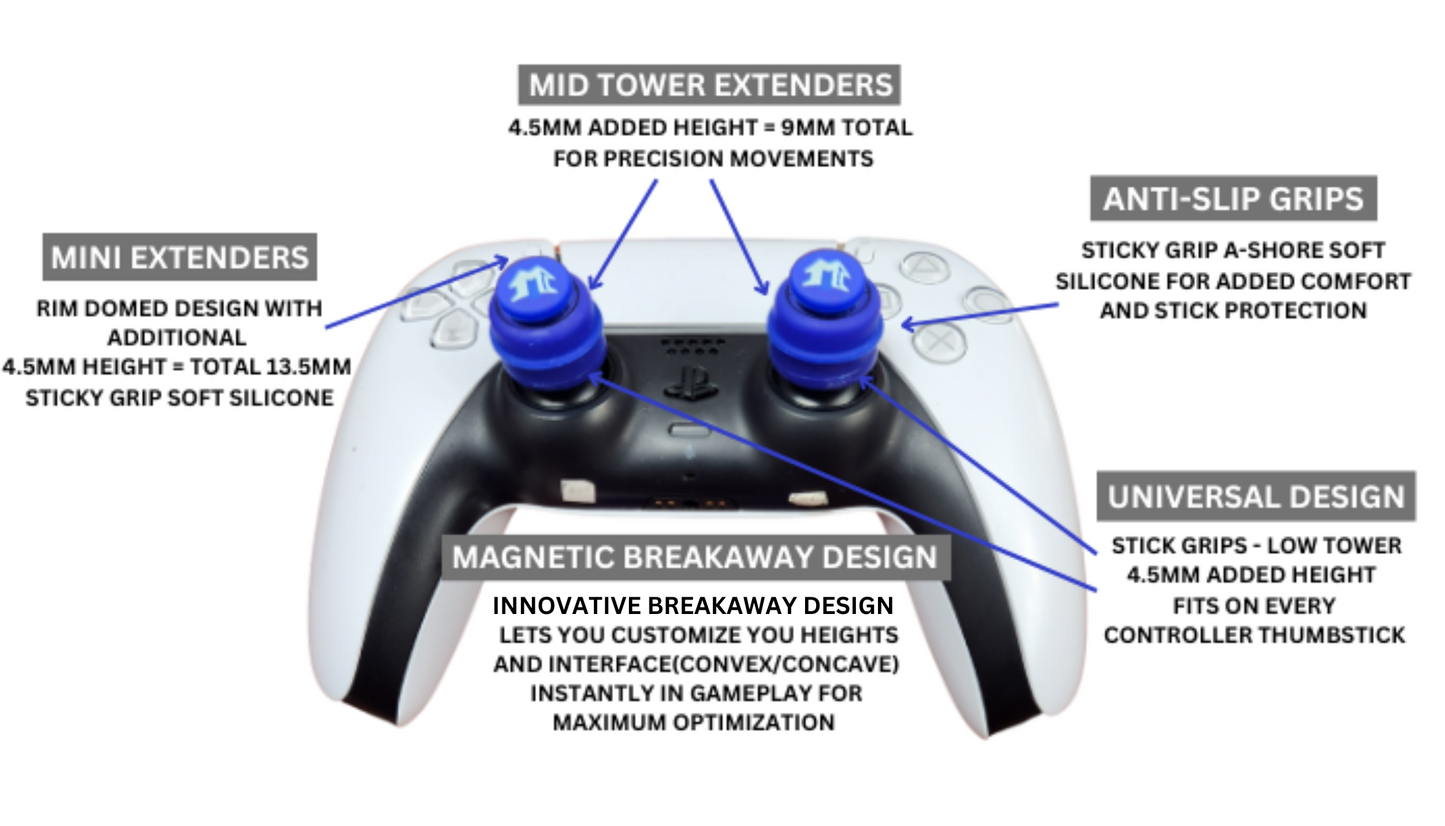 Works great
Never noticed how low my thumbs where it relived a lot of pressure
Ridiculously Easy
You need these grips!! Really upped my controls, feels great. Perfectly comfortable, didn't interfere with my gaming. Absolutely love these things. Next level for sure.
sniper towers ftw!
In addition to extra grip, the towers let me set my sensitivity right where I want it, and then adjust on the fly - plus it goes on all my consoles!
These were amazing and wish we got more These magnetic gaming grips are great for playing video games. These really work for enhancing your gaming experience and stop your hands from hurting. I recommend these for anyone who is serious about gaming. Again, totally recommended.
Compatible With Any Controller
Utilize this MagCon Gaming | X6 Stick Extenders Kit | Universal Thumbstick Grips | Performance Thumbstick Covers set on any gaming controller for added height, increased accuracy, and to prevent your thumbs from slipping off the joy sticks.
Compatible With: Xbox, Playstation, Nintendo, PC, Wii, and most other gaming controllers!